That First Taste of Victory: A Post-Laconia Follow-Up with Bronson Bauman
A position inside the all-conquering Indian Wrecking Crew is the most coveted seat in the American Flat Track paddock for obvious reasons, but it does not come without its own particular set of challenges.
For example, any rider joining the team in 2019 would be hard pressed to escape the mile-long shadow cast by the series' dominant reigning AFT Twins presented by Vance & Hines Champion, Jared Mees, who enjoyed historic success with the team in 2017 and 2018 and showed no signs of letting up anytime soon.
Briar Bauman has managed that task magnificently, winning the AFT Twins season opener and stacking seven consecutive additional podiums behind it to open up a 34-point advantage eight races into the the '19 campaign.
However, his success has only resulted in an exponentially larger combined shadow that had effectively masked the steady progress of his younger brother and teammate, Bronson Bauman, who was dealing with the racing equivalent of being on the dark side of the moon.
Just about the only way Bronson could step into the light was by standing atop the podium -- an achievement he pulled off last Saturday night in the inaugural Laconia Short Track presented by Russ Brown Motorcycle Attorneys.
It couldn't have come in much more challenging circumstances. Bauman was forced to navigate a rough track that seduced riders into mistakes -- as evidenced by five red flags across the two Main Events. He also had to overcome overwhelming pressure of two different sorts -- both on-track, as he fought with everything he had to hold on to the lead across four separate stints, and mentally, as he attempted to maintain his composure during three different stoppages.
"The track was brutal, so a little mistake cost you quite a bit," Bauman said. "It was nerve wracking. Every single time I saw the red flag, I was shaking my head, going 'Why? Why me? Why right now? Is this seriously how I've got to do this right now?'
Any thoughts that big brother Briar might simply hand Bronson the win were wiped away when he dove up the inside to steal away the lead late in the race. But on that occasion, the red flag actually worked to Bronson's advantage.
"The red flags were definitely heartbreakers," he said. "The only one I was thankful for was the last one. That was big. Just before the last red flag, I heard someone coming up behind me. I knew there was only one person fast enough, strong enough, and dumb enough to pass me on that track right then. And sure enough, I looked back and saw the big #14!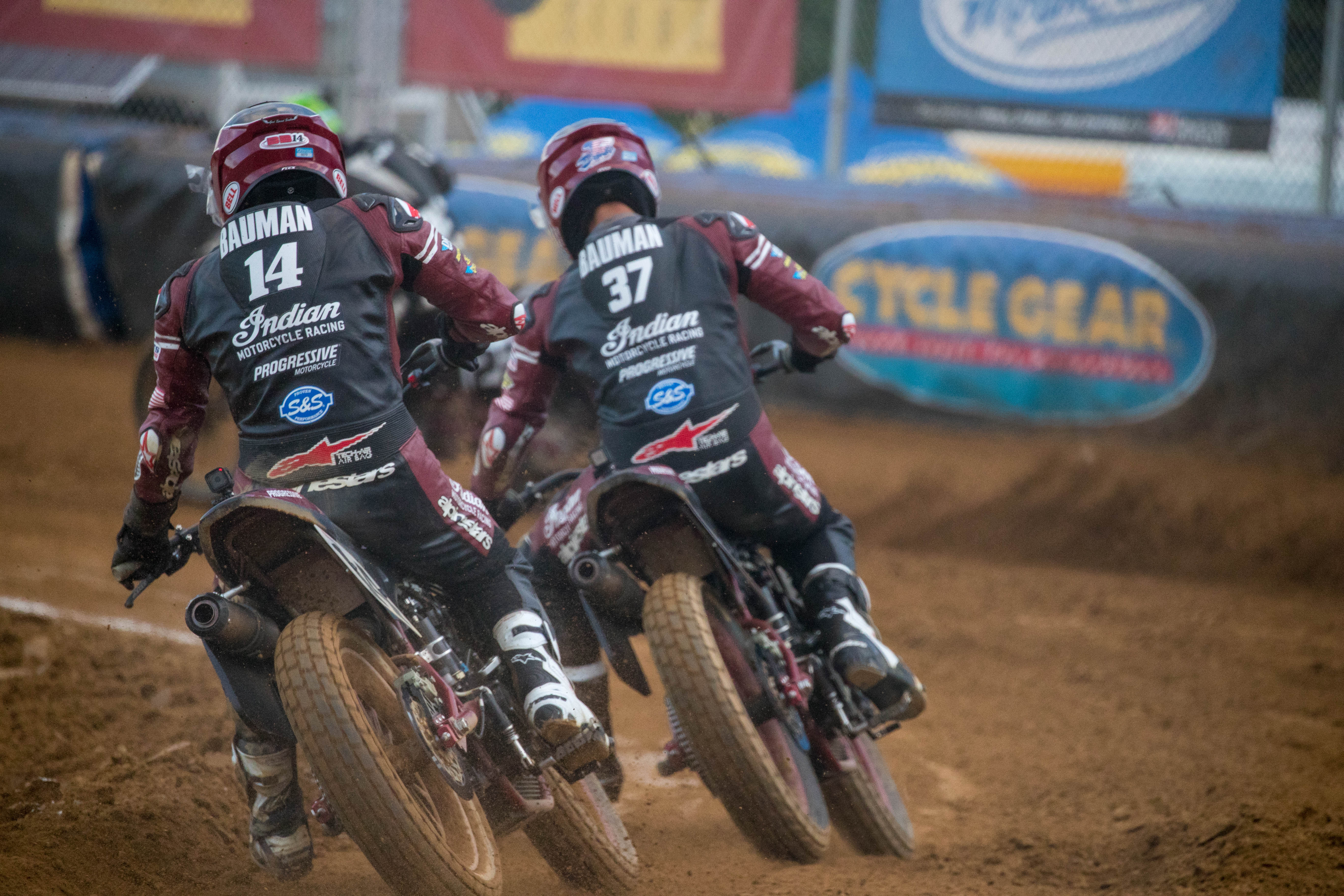 Briar Bauman making an attempt at the inside line to pass brother Bronson.
"I was hoping maybe he'd let me have just this one, but when he got underneath me, I knew he wouldn't. And I wouldn't give him one either. We've both got to earn it."
And that's exactly what Bronson did after the third and final restart.
"I'd never been in that position before. I mean, I led a lap of a national earlier this year -- kinda -- at Daytona, but there my brother went right past me. That last restart, I was honestly a very nervous Nellie. Briar had just passed me before the last red flag. But I also knew I was getting great starts. I knew what I had to do. I just stayed to the bottom and didn't give that line up, and sure enough, I was somehow able to do it."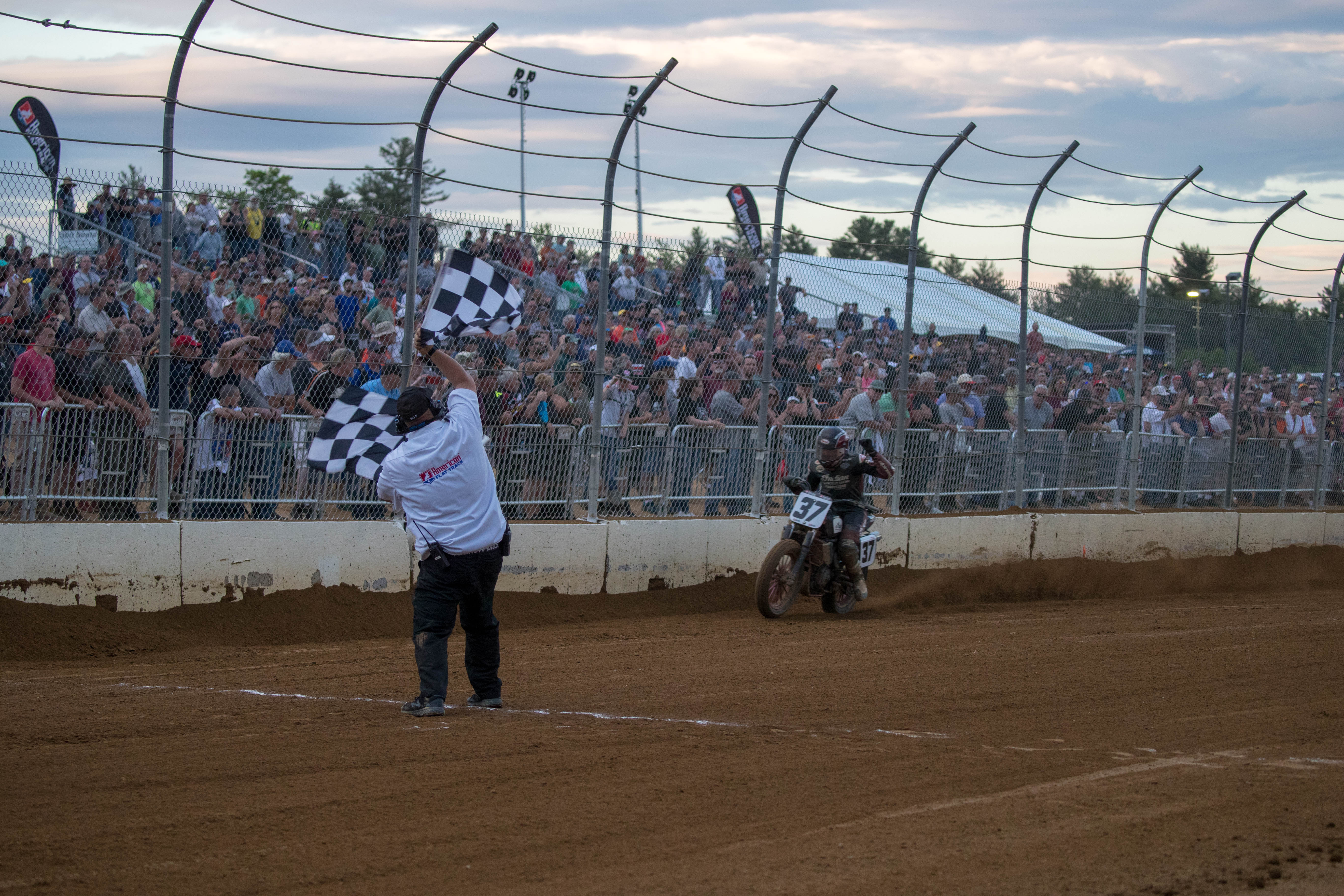 Bronson celebrating his first AFT Twins victory as he takes the checkered flag at New Hampshire Motor Speedway
The immense race-long pressure Bronson felt did not fall away until he reached the checkered flag... or a few feet before that, anyway.
"Going into Turn 1 on the last lap, I did everything I could to crash the thing, but somehow I stayed up. Getting into Turn 3, I was thinking just don't mess up. Coming off Turn 4, I didn't quite hear my brother anymore, and I knew I had just won my first national.
"I'm not one who likes to celebrate before I actually do something, because I believe that anything can happen at any given time. But for this to be my first... I came unglued right then and there, before I even crossed the finish line. The emotions were unreal."
The fact that Briar came home second only made it that much sweeter.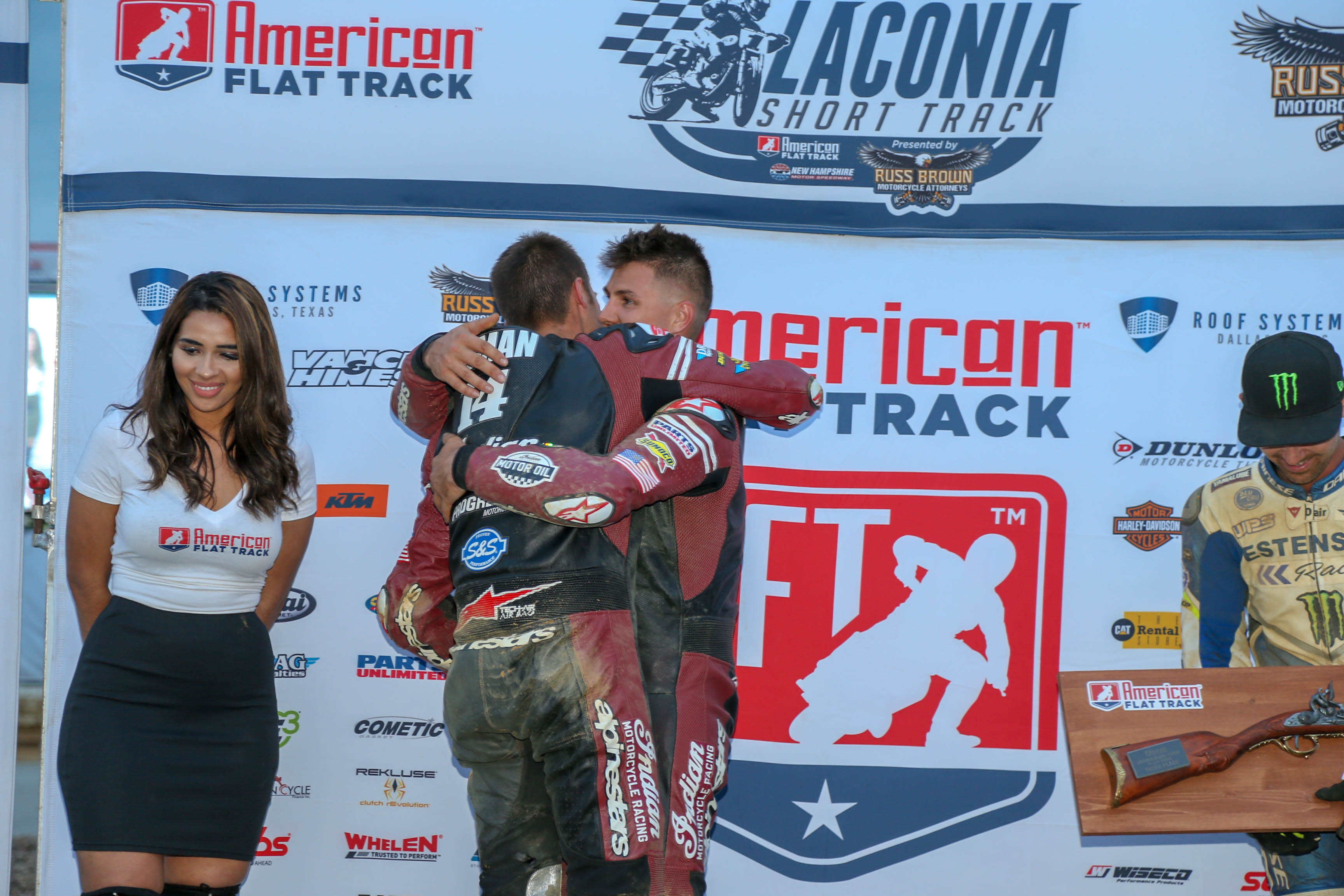 Briar congratulating Bronson for a career milestone
Bronson said, "It's awesome to go 1-2 with my brother. The only time I've been on the podium has been with him. Last time, he got the best of me. It's awesome to get the best of him this time. It's a lot better to be the '1' than the '2.'
"That 'W' -- it tastes good. It's worn off a little bit, but I still think back to it, and it's like, 'Holy smokes, I did this! I won my first Grand National.' There's not too many people in the world who can say that."
That victory cemented a remarkable turnaround for a rider whose prospects couldn't look much different now than they did one year ago. Consider that at this stage in 2018, Bauman had qualified for just three Mains with a best result of 13th. The lack of results and disappointment that came along with it had him reconsidering his career options.
"It's crazy. Today, a Facebook memory popped up. It was a post about me riding the OKC Mile last year. I went there with just one legal bike in the back of my van, and I ended up breaking there.
"I wanted to quit racing. I was done in the middle of the season last year. My plan was to do something else with my life. But I'm too stubborn and hardheaded, so I said, 'No, this is what I love to do.' And I buckled down and spent way too much money and kept racing.
"At my lowest, it turned around and things started looking up from there on."
The reality is, if things hadn't been quite so bad for Bronson a year ago, he likely wouldn't have been in a position to say yes when the opportunity came along to sub for the factory Indian Motorcycle team. And without that opportunity, he wouldn't have been able to flash his full potential and likely wouldn't have been in consideration for a full-time ride with the team in 2019.
He said, "Honestly, I teared up a little bit this morning, just thinking about how far I've come in a year. God has really been on my side, and he's blessed with the opportunity to ride for factory Indian. Everything has come together. I believe God has a plan for everyone. I wasn't on the road that I wanted to be on, but I was on his road. He led me to where I am today, and I couldn't be more thankful."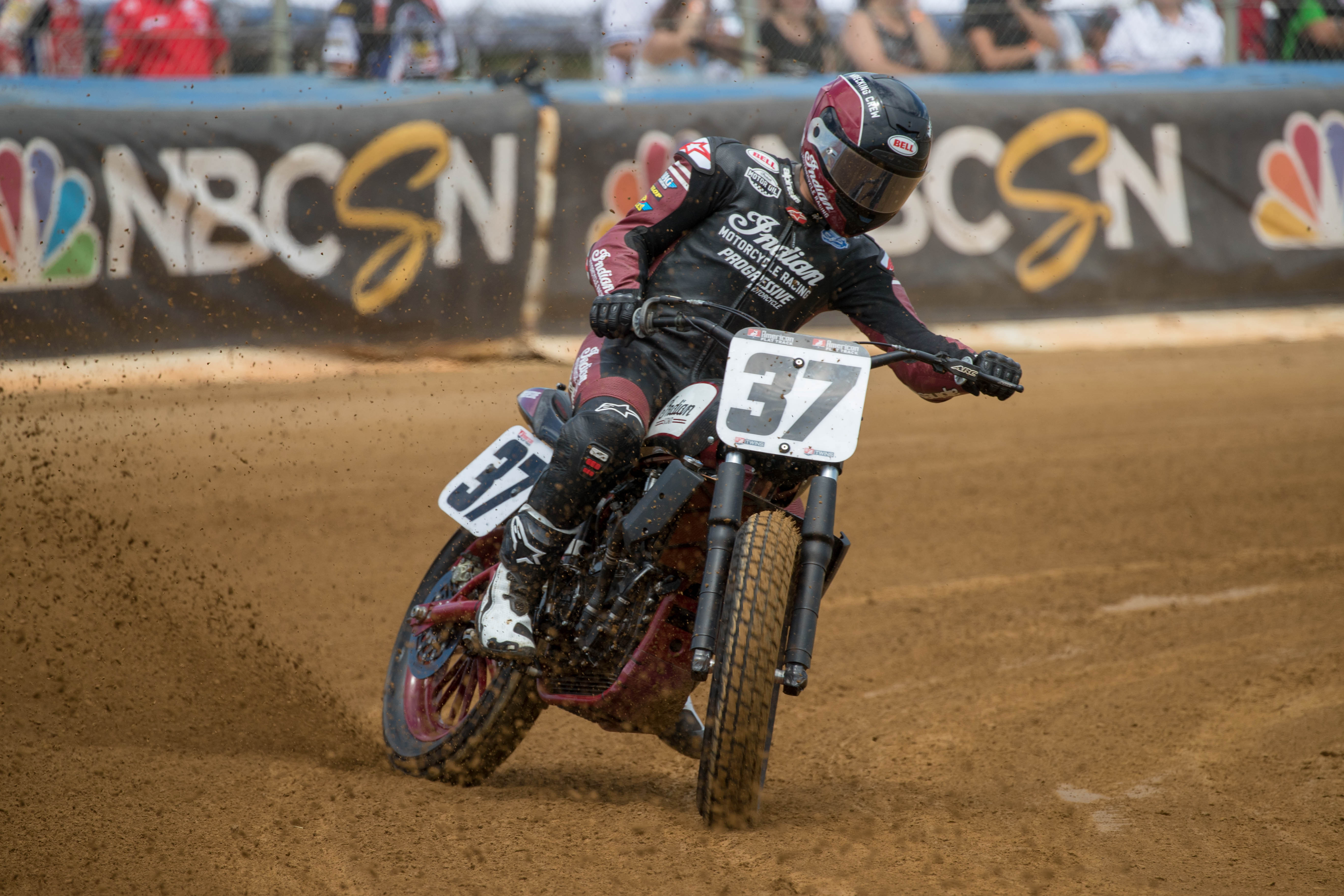 Bronson is currently ranked fourth in the AFT Twins championship standings with a win on his resumé. And yet there is no escaping the inevitable and never-ending comparison to older brother Briar. As unfair as it may be, even Bronson can't help falling into that trap on occasion.
"It's so hard to not compare Briar and I, just because we're brothers. Everyone does it. Everyone really does. You don't know how many times I've heard, 'Well, Briar has done this, Briar has done that...' And honestly, it eats me alive because he's my big brother.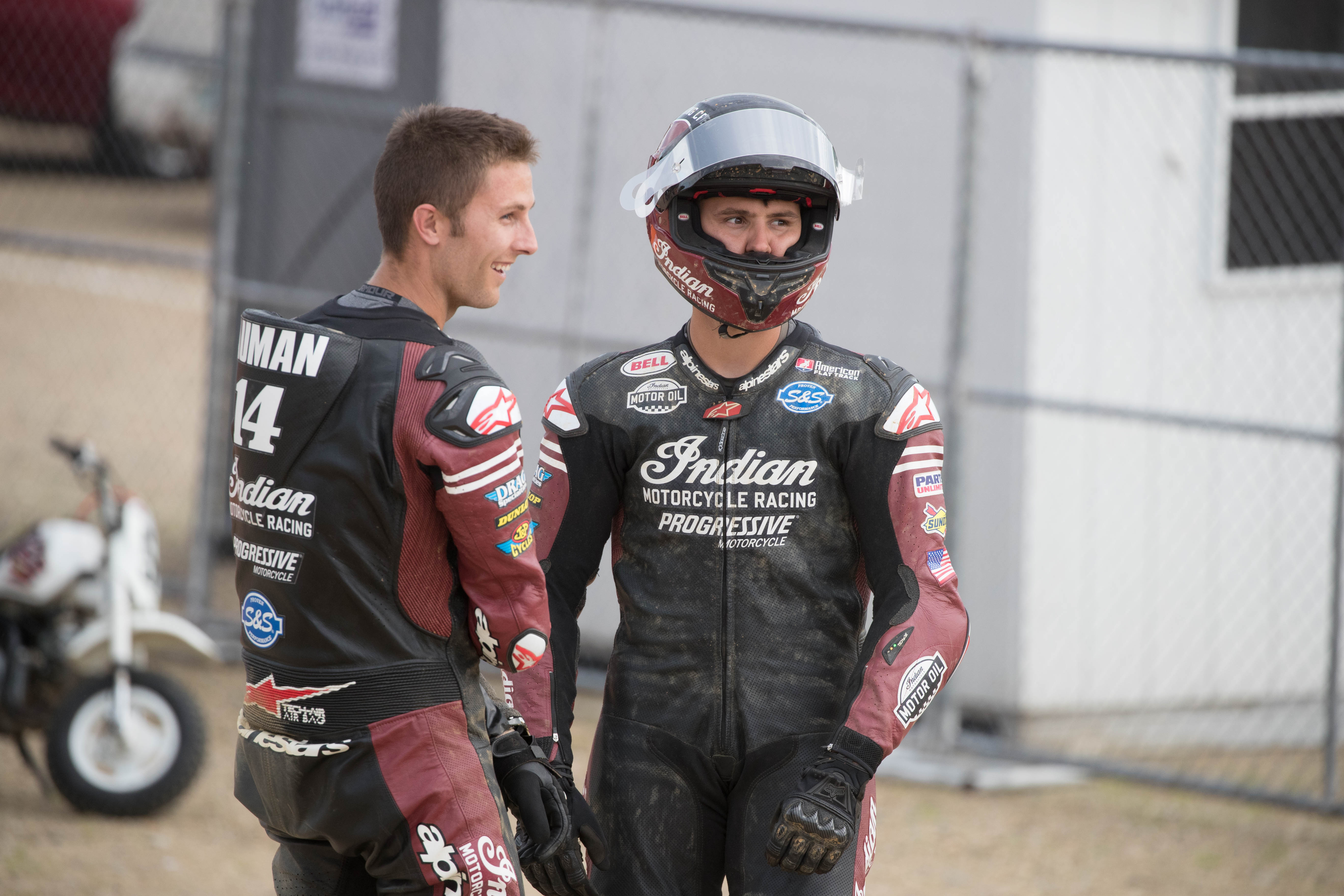 Briar and Bronson - true teammates and family - can often be found exchanging notes on track conditions and racing strategy
"It's the carrot dangling in front of me the entire time. It's great for me because it's motivation. There's no one in the paddock I respect more, but there's also no one I want to beat more.
"But at the same time, it can be hard not to get down on myself, just because Briar is on a whole other level right now. He's doing unbelievable things. A lot of people are starting to realize that -- he's here to win the championship. That's awesome, and I couldn't be more proud of him, but personally, it's hard because he has eight straight podiums. Me? I have one.
"But I know why I'm here. I believe Indian hired me to learn how to race, and they hired Briar to win the championship. And I think he's going to do it."
The reality is that the two are at different stages in their careers. Briar is experienced beyond his 23 years as he battles for a championship in what's his eighth season in the premier class. Meanwhile, 21-year-old Bronson is still very much learning the ropes at the top level.
"He's been in the class, shoot, since 2012. I got to the class in '16, but to be honest, I feel like this is my rookie year all over again. I feel like I'm finally on winning equipment. I'm at the highest point I've ever been in my entire life. Yes, I do still get compared to Briar, but I say, 'You know what? It's okay.'
"There's no comparison in my book with where we're at in our lives. He has more experience. He's a little bit older. Some may even say he's a little more mature than I am, but I won't go there... (laughs). But we're completely different people, and we've all got to learn things on our own.
"I think he was just as happy as I was for this win. We're here for each other no matter what. We have a teammate bond that most people won't experience in their entire lives. It makes it special."
Bronson holding off Briar at the Laconia Short Track
And now that he's an AFT Twins Grand National Main Event race winner, where does Bronson go from here?
"I have the taste of victory in my mouth, and it's not going away anytime soon. I want to taste another one. My goal for the rest of this season is to just stay consistent. I want to consistently be inside the top five, and I know I can do it. It's just about putting all the pieces together.
"I really think top three in the championship is not out of reach for me. I got that taste, and it's just motivated me more. I working as hard as I possibly can to make it happen."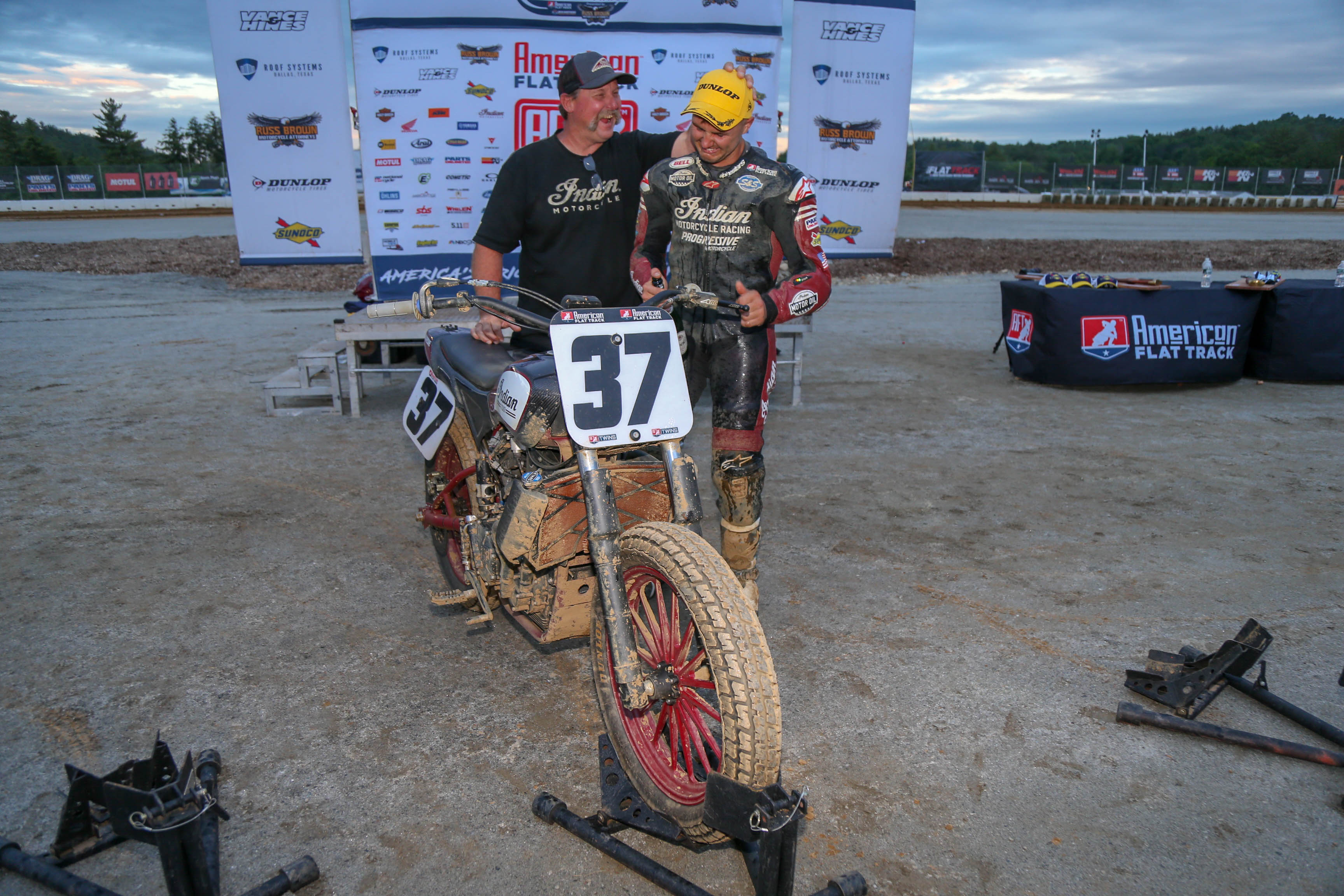 Father Barry Bauman, proud as can be, enjoying a monumental Father's Day weekend with his sons